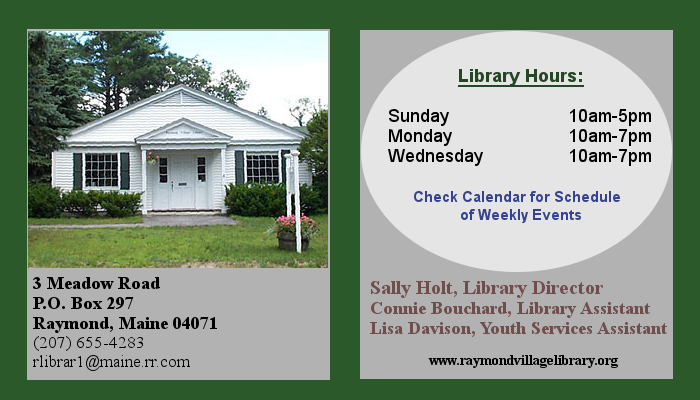 Mission Statement
The Raymond Village Library is a community based informational, educational and recreational facility dedicated to providing quality library services and resources in a welcoming atmosphere. The library will be responsive to the changing needs of the community, cooperate with other entities and strive to fulfill its role as a service oriented, dynamic library.
Click the pic!

Search our catalog!

For now, you can find out what we have and whether it's available to borrow. Other features will be coming soon.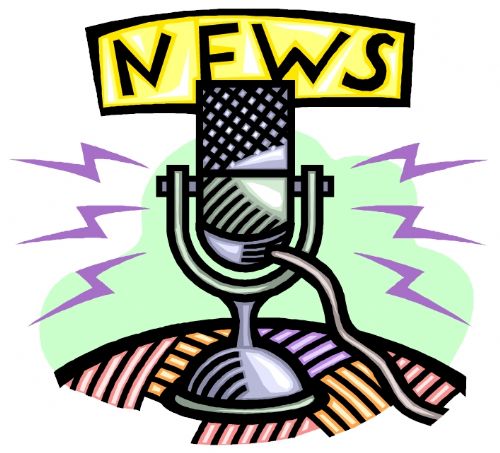 New Library Hours Startin​g Thursday, May 1
Sunday 10-4
Monday 10-6
Wednesday 10-6
Thursday 2-7
WINTER HOURS ARE NOW IN EFFECT.
SUNDAY: 10:00AM - 5:00PM
MONDAY: 10:00AM - 7:00PM
WEDNESDAY: 10:00AM - 7:00PM
Van Service for Interibrary Loan
We are excited to offer another great service to our patrons! If a book, DVD or audio CD is not available at RVL, patrons can now request it from another library through the new courier service. A request form is filled out and in most cases the book will be delivered the next week by the "van service", available through the Maine State Library System. This valuable service is free of charge to our patrons.
In the cases where a title is only available through the mail, a small mailing charge may be incurred.
HAVE YOU DONATED TO THE RAYMOND VILLAGE LIBRARY'S ANNUAL APPEAL?
Your generous support to this year's appeal will enable us to continue with the high level of service you expect.
There are several ways to donate:
Stop by the library at 3 Meadow Road in Raymond;
Mail your donation to the library at PO Box 297, Raymond ME 04071;
Use the PayPal DONATE button below.
The Raymond Village Library is a 501(c)(3) non-profit organization,
so your donations may be tax-deductible.
Any donation to the Annual Appeal will make an impact.
Please know that your financial support is much appreciated and always valued.
Doing Research? We are here for you.
If you are looking for reliable information, the Raymond Village Library is happy to help you locate materials for pleasure or research. We can provide database instruction and assist with effective search strategies.
Interlibrary Loan gives you access to books, audio books and dvd's that the library does not have. This service is FREE. If a material is not readily available and we must send for it there is $3.00 postage charge.
Questions? Call the library at (207) 655-4283 or e-mail Library Director Sally Holt.

"Like us" on Facebook
Do you enjoy being up-to-date on what is happening? It's so easy to keep up with all that is going on at the Raymond Village Library: Simply like us on our Facebook page.
www.facebook.com/RaymondVillage Library