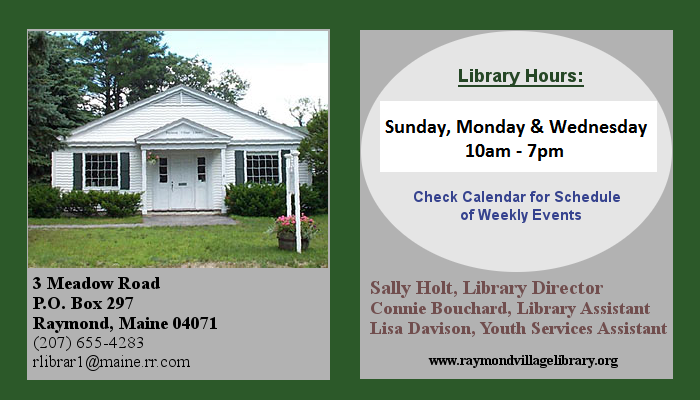 ANNUAL APPEAL STARTS EARLY
In order to reach both our year-round and summer patrons and visitors, we began our Annual Appeal in August. We are asking for your generous support in this year's appeal so that we can continue with the high level of service you expect.
There are several ways to donate:
Stop by the library at 3 Meadow Road in Raymond;
Mail your donation to the library at PO Box 297, Raymond ME 04071;
Use the PayPal DONATE button below.
The Raymond Village Library is a 501(c)(3) non-profit organization,
so your donations may be tax-deductible.
Any donation to the Annual Appeal will make an impact.
Please know that your financial support is much appreciated and always valued.
ANNUAL GIFT BASKET SALE NOW!
Since our gift baskets have become so popular, they are going on sale on Sunday, November 17 in time for Thanksgiving. You'll find all sizes and types of baskets filled with goodies and gifts for holiday gifting. The gift baskets are perfect for when you are looking for a present for a hostess, teacher, or special friend. They will be available at the library during regular library hours through December until they are all sold. Check out Raymond Village Library's Facebook page to see some of these delightful gift baskets.
COLLECTIBLE HOLIDAY BOYD'S BEAR RAFFLE
Stop in at the Raymond Village Library and buy a raffle ticket for the BOYDS BEARS OMEGA T. LEGACY AND ALPHA, MILLENNIUM LIMITED EDITION TEDDY BEARS. Omega stands 16" tall and comes with his original box and stand. Even if you are not a collector, once you see this bodacious bear, you will want to add him to your holiday decorations. Tickets are $1.00 each and for sale now at RVL.
Author of the Month
Dorothea Benton Frank is the featured author of the month. Her books are funny, sexy and usually damp with the low country seawater of South Carolina. She writes about friendship and family with a touch of laughter, insight and mystery. If you haven't recently read a Dorethea Benton Frank novel, be sure to pick up one of her new books. If you have not yet discovered this amazing author, be sure to visit the display of her many novels the next time you are in the library. We think you will find that she keeps you reading compulsively. Enjoy!.
STRATEGIC PLAN SURVEY
Thank you to everyone who completed the Raymond Village Library's Strategic Plan survey. The response was great with over 200 online and paper surveys submitted. We appreciate your input in future planning at RVL.
Questions? Call the library at (207) 655-4283 or e-mail Library Director Sally Holt.

Come check us out on Facebook!
Mission Statement
The Raymond Village Library is a community based informational, educational and recreational facility dedicated to providing quality library services and resources in a welcoming atmosphere. The library will be responsive to the changing needs of the community, cooperate with other entities and strive to fulfill its role as a service oriented, dynamic library.