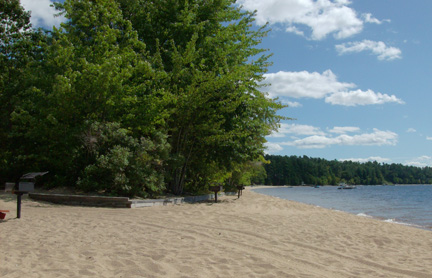 General Information and Fees
Location: Just off Route 302, across from the Raymond Shopping Center, and behind Jordan Bay Veterinary Hospital. A four mile drive from the Windham shopping area and a seven mile drive from Naples.
Tassel Top Beach is situated on 35 acres on the east shore of Sebago Lake. A stand of mature pines and hardwoods grace the entrance to the park and the park road leads you to a graveled parking lot. A short walk brings you to 900 feet of sandy beach, one of the best beach areas on Sebago Lake. The beach has a secured swimming area marked by buoys; however there is no lifeguard supervision. The beach area has many picnic tables, outdoor grills and changing rooms are also available. Tassel Top offers a fully stocked Snack Shack with ice cream, hot foods, charcoal, candy, drinks, snacks, clothing, sundries, beach toys and more.
Another enjoyable feature of Tassel Top is a nature trail, covering about 1/2 mile, that meanders through acres of Maine woods. The clearly marked trail has points of interest marked by signage and benches for quiet meditation or rest. The trail is maintained by park staff and is handicapped and stroller accessible. This path if for FOOT TRAFFIC ONLY. No bikes, ATV's...etc.
There is no boat launch at the park and boats of any type are not allowed on the beach.
Dogs and other pets are not allowed in the park or on the beach at any time.
The park is supervised by a Park Ranger and Assistant Rangers, who are present daily.
2017 Season Fees, Schedule, Park/Beach Hours and Open Dates:
Day Pass (9am to 1/2 hour before close)
Children age 2-10: $2.00
Adults age 11-64: $5.00
Senior citizens 65+: $3.00 (with proof)
Season Passes (only available at the Park from Memorial weekend to August 15th, vehicle specific)
$90.00 for up to 4 people, all extras pay AGE APPROPRIATE FEE at gate
Rentals (Prices do not reflect security deposit, tax or boat mooring)
High Season, June 17-Sept 4 weekly only $950/wk, weekends only if week is not booked by Wed.
Low Season, May-June 16, Sept 5-Oct 9 $850/wk or daily rates. Fall reservations by Labor Day.
Low (off) season function (receptions, bootcamps...etc.)
$500.00 for up to 50 people
$1,000.00 for up to 100 people
$1,250.00 for up to 125 people
$1,500.00 for up to 150 people (extras are $10.00 per person)
(includes overnight stay in cabin for up to 8 people)
High Season- June 17-Sept 4
Low Season- May-June 16, Sept 5 thru Oct. 9 (reservations must be made by Labor Day)
Park/Beach Hours** Weather Permitting **
Please check Facebook for current daily hours and infomation. A link to Facebook can be found on the bottom of this page.
| | | |
| --- | --- | --- |
| Dates | Open | Gates Lock* |
| Memorial Day weekend to June 14 - Weekdays | 9:00 am | 4:00 pm |
| Memorial Day weekend to June 14 - Weekends | 9:00 am | 5:30 pm |
| June 15 - August 15 | 9:00 am | 7:30 pm |
| August 16 - Labor Day | 9:00 am | 6:30 pm |
* No incoming traffic 1/2 hour prior to closing. Patrons must vacate park BEFORE closing time.
NOTE: Park may open late and/or close early due to inclement weather or lack of business.
Opening weekends from Saturday of Memorial weekend until full season opening.
Open daily from June 2th through Labor Day.
For more information call: 207-655-4675

"Like" us on Facebook for regular updates, closures and notices