---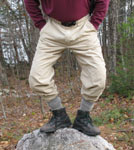 Important tip for dealing with ticks: when you're out taking those vacation snapshots, remember to tell your photographer to picture you only from the knees up. That way, when you're sharing your vaction pictures with the folks back home, you won't lose all your fashion creds. If they see you like this, you may never hear the end of it. But it IS important to protect yourself from the little beasties that carry Lyme disease.
Upcoming Events
Monday, October 1, 2018 -

7:00pm

to

9:00pm

Wednesday, October 3, 2018 - 6:30pm

Monday, October 8, 2018 -

8:00am

to

4:00pm

Tuesday, October 9, 2018 - 6:30pm

Wednesday, October 17, 2018 - 6:30pm
Online Transactions
Animal Welfare
BMV
Elections
Inland Fisheries & Wildlife
Maine Forest Service
Property Tax Payments
Raymond Newsletter
Stay informed on our latest news!
Who's Online?
There are currently 0 users online.