News articles by John Hanley
This is it, the Raymond Road Runner is now back as a online resource of municipal and community news, announcements and events. Articles and image content can be submitted via email for publication to roadrunner@raymondmaine.org or dropped off at the Town Office on CD. Submitted content must be from individuals authorized on behalf of the town office, board, committee or organization that it pertains to. Out of town submitted content will be judged suitable for publication by its relevance or benefit to the residents of Raymond.
Raymond Village Community Church (RVCC) Wants Area Neighbors to
Help Create Maine's Largest Yard Sale, Saturday, June 15
The Raymond Village Community Church (UCC) invites the public in Raymond and the Lakes Region to join in putting together the largest yard sale yet in Maine on Saturday, June 15, 2013.
"A single June yard sale gets lost among all the other yard sales." says Church Yard Sale Coordinator Rolf Olsen, "But if we all work together, we can make the Raymond Center Yard Sale Extravaganza the place to be in Southern Maine on June 15th."
Raymond Center, located as it is on Rte. 121, right off Rte. 302 just east of Sebago Lake, is easy to get to from anywhere in Cumberland County. It offers convenience and visibility with a rural village ambiance – perfect for such an event.
The Church is offering table space for a nominal fee to anyone interested in selling merchandise. The Church Vestry and Parking Lot will be full of vendors – sixteen vendors have already signed up, but there is space for more.
In addition, the Church is encouraging Raymond Center neighbors on Main Street, Mill Street, Gay Avenue, Meadow Road, and Chapel Street to hold their own yard sales that day or to let friends host yard sales on their property. "The more people who hold yard sales, the more traffic we can all attract, which helps everybody." Olsen said.
The Church is asking for donations of any kind of saleable merchandise for the Yard Sale. Pick-ups can be arranged anywhere in the Lakes Region.
That day, the Church is also hosting a Pig Roast, a Midway for Kids, an appearance by Lovebug the Clown, and other activities to attract as many people as possible to the event.
Finally, the Church will be coordinating publicity and posters to boost the visibility of the Yard Sale Extravaganza.
For information about reserving table space, contact Polly at 892-4301. For other information or to arrange a merchandise pick-up, contact Rolf or Brenda Olsen at 655-4670.
The June Yard Sale is a major fundraiser for RVCC. The proceeds enable the Church to continue and expand its community and mission programs in Raymond and the broader world. Learn more about the programs of RVCC at www.rvccme.org.
RVCC: Little Church, Big Heart
News From the Raymond Village Library
At a glance
Wednesday, May 8 – Maine Author, Carol Lilleqvist Welsh, 6:00pm at the library
Sunday, May 12 – Game Day, 1:00pm at the library
Monday, May 13 – Publicity Committee Meeting, 3:30pm at the library
Wednesday, May 22 – Columnist Tom Atwell, 6:00pm at the library
Monday, May 27 – Memorial Day, the library will be closed
Wednesday, May 29 – Book Group, 7:00pm at the library
Maine Author
The Raymond Village Library is pleased to host Maine author, Carol Lilleqvist Welsh, who will read passages from her memoir, 360 Square. In her book Carol discusses the importance of adoption in her life and how she overcame a difficult childhood. The program will begin at 6:00pm and those interested are asked to pre-register at the library on 3 Meadow Road, Raymond, by calling the library at 655-4283 or email at sally.holt@raymondvillagelibrary.org.
Game Day
This special time is for students 8 years and older. It begins at 1:00pm and no registration is needed, just come in and bring your friends. There will be all kinds of games available. Prizes and snacks will be part of this fun-filled afternoon. For more information call the library at 655-4283.
Portland Press Herald Columnist
The Raymond Village Library is welcoming spring in a variety of ways. On Wednesday, May 22, at 6:00pm, we welcome Tom Atwell who has written the Maine Gardener column in the Maine Sunday Telegram since the spring of 2004.
Tom grew up in Farmington and graduated from the University of Maine with a BA in Journalism. His gardening goal each year is to have continuous compost from his three compost bins, continuous bloom in his low-maintenance garden, and more fruits and vegetables on his family table than the garden pests eat in the field. Mr. Atwell's talk is in conjunction with the Raymond Garden Tour to be held June 29, 2013, which benefits the Raymond Village Library. Due to limited seating, we ask those who plan to attend, to pre-register at the library or call 655-4283 to have their name added to the list or email the library at sally.holt@raymondvillagelibrary.org.
Annual Plant Sale
Our Annual Plant Sale is yet another way to welcome spring. Attention: All gardeners, plant and flower lovers, now is the time for cleaning out those flowerbeds, dividing and replacing your favorite plants. The Raymond Village Library's Plant Sale on June 8 from 7:00am to 11:00am, can use all those extra plants you will be thinning out or removing to make room for new seedlings.
We continue to count on your help for this sale by putting aside those plants and bringing them to the library on June 7, the day before the sale from 4:00pm to 6:00pm. Perennials are very popular, as are ground covers, flowering shrubs, vines, bedding plants and annuals. For more information, please call Marie at 221-0568, email mkconnolly@maine.rr.com or Jane at 655-5354, email janehubbell@maine.rr.com .
As a special attraction, there will be a Bake Sale at the same time. Sign-up sheets will be at the library for much needed volunteers to work on Friday and Saturday for the Plant Sale and also for talented bakers to contribute to the Bake Sale. See how much we need and love our amazing volunteers.
This combined plant and bake sale is great!! You will be able to pick up beautiful plants and also a treat for yourself or visiting weekend guests.
Spring-cleaning?
If you get the spring-cleaning bug, please keep your library in mind. Your donation of new and gently used books, DVD's, audios and music CD's are accepted at any time. Please make sure audio and video materials are in working order. Your donations are greatly appreciated and will be added to the collection when appropriate or placed in the book sale.
Memorial Day
Please make a note on your calendar that the library will be closed on Monday, May 27 in celebration of Memorial Day. It will however, be open on Sunday, May 26.
Summer Hours
Beginning May 1, the Raymond Village Library will be returning to summer hours.
Sunday – 10:00am to 7:00pm, Monday – 10:00am to 7:00pm and Wednesday – 10:00am to 7:00pm.
Book Group
The reading group has chosen the novel Digging to American, by Anne Tyler. The story deals with two families who meet in the summer of 1997 at a Baltimore airport lounge as each awaits the arrival of an adopted baby girl from Korea. One is an All American Couple and the other, an Iranian couple. The two families strike up a lasting friendship, yet each family decides to bring up their Korean daughter differently. The story outlines a clash of identities as well as a picture of what makes up a modern American family.
We welcome back our "snowbird members" and invite any and all interested readers to join us on Wednesday, May 29 at the Raymond Village Library at 7:00pm for what should prove to be a lively discussion.
The book will be available upon request at the library and for more information please call the library at 655-4283.
Story Times
On Mondays at 10:30, the story time at the Raymond Village Library is for infants to 3 year olds. On Wednesdays at 10:30, the story time is for preschoolers, 3 to 5 year old. For more information, call 655-4283.
Stephen and Tabitha King Grant
The Raymond Village Library has been awarded a Stephen and Tabitha King Grant of $10,000. This grant is specifically earmarked for the advancement of technology at the library.
We Need Your Help
In the present economy, we are all struggling to make ends meet and your library is no exception. This year our Annual Appeal has fallen short of necessary funds and so we ask you, our wonderful patrons, to consider making a donation if you have not yet done so and if you already have given, we thank you very much, and ask if you could see your way clear to add just a little bit more to what you have already given. We do need your help.
Maine Wildlife Park
Last year the Raymond Village Library purchased a Community Pass to the Maine Wildlife Park for all our patrons to use. It was well used and many have already asked if the library will be providing it again this year. Several generous library patrons have already contributed $125 and since the park is already open we are now accepting any donations, no matter how small or large to complete the necessary total of $225. Please bring your donation into the library and specify that it is for the Maine Wildlife Park.
The usual charges for the Park are: for ages 4-12= $5 each, ages 13-60= $7 each and 61+= $5 each. By using the Community Pass, each member of the group (no more than 7 people) will just be charged $2.50 each. This is a large savings per family and you can visit the park perhaps several times during the season, saving each time. It is a wonderful place for families to visit and to bring your summer company, as well as grandchildren who are visiting.
Point Sebago Raffle
Tickets for the five days at Point Sebago Raffle are still being sold at the library and also at four Raymond merchants: Crickets Corner, The Mosquito, Ultimate Hair and Tanning Salon and Krainin Real Estate. The tickets are being sold for $5 each and 4 tickets for $15. The winning tickets will be drawn on Sunday, May 26, the day before Memorial Day. What better way to begin the summer than being able to spend 5 fun-filled days enjoying all that Point Sebago Resort has to offer? All proceeds benefit the Raymond Village Library.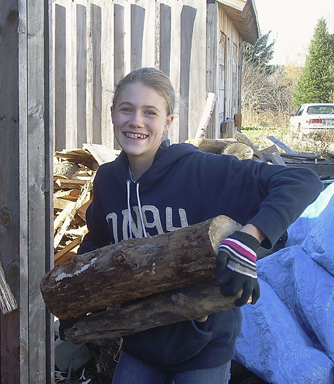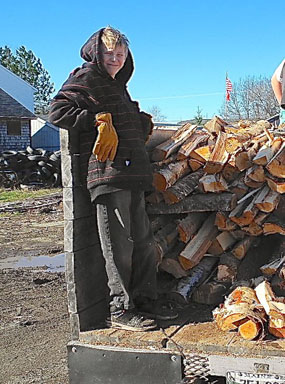 RVCC Youth Group members Collette Boure and Bryce Sullivan spent this a chilly weekend (Nov. 10-11) with 40 other Maine United Church of Christ youth volunteers and their adult leaders cutting, splitting, hauling, and stacking over ten cords of wood to help heat buildings at the H.O.M.E. Mission Cooperative in Orland, Maine.
The RVCC Youth Group offers Service, Social, and Spiritual opportunities for area youth, 5th Grade through High School. All are welcome to participate in monthly Pizza & Movie Nights, mission and service trips and projects, and "just for fun" activities throughout the year. For information, contact Rev. Nancy Foran at the Church Office: 655-7749.
For 42 years, H.O.M.E. has been feeding, clothing, educating, employing, and sheltering unemployed and under-employed people in the Mid-Coast region. H.O.M.E. is part of the world-wide Emmaus Communities (http://www.planet-emmaus.org/)
RVCC: Little Church, Big Heart
Learn the Basics about e-Books, e-Readers and Computers
New to e-books? Have you been given an e-reader but haven't got it figured out yet, or do you just want to find out more about them? You are invited to join Patrick Therrien and Jared Leadbetter from the Maine State Library in this two-hour introduction to the digital world of e-reading. You can expect to see a few of the more popular devices demonstrated, and to learn about some of the available resources out there, including the state-wide Overdrive Digital Library and other free services. Join us on August 22nd from 10-12am at the Raymond Village Library.
Patrick Therrien from the Maine State Library is back on August 29th from 10-12am to teach a two-hour introductory class on Basic Computer Skills. This is a wonderful opportunity to learn basic computer terminology and operating computer tasks and also gain an understanding of the Windows interface and the World-Wide Web. Patrick will be bringing ten laptops for the class to use.
Since space is limited for these free programs, please call the Raymond Village Library at 655-4283 or come by to register.