---
Unless you are staying at a property that has a private boat ramp, access to Panther Pond is via the boat ramp on Crescent Lake (see map) and the Tenney (or Tenny) River. (You may see or hear about a boat ramp on Panther Run, but that is not legally open to the public, so please use the Crescent Lake ramp.) The Tenney River is passable by power boat, but if you have an outboard or I/O drive, you may want to raise the lower unit a bit to avoid hitting rocks or collecting weeds at times of low water. Go slowly and stay in the main channel (but please check the detail section of the boating hazards map.)
For boat rentals, see the "things to do" page; currently, most rentals are from marinas in Naples. (See "Getting Around" for the direction to Naples.) Panther is a small lake, so you won't need a large boat.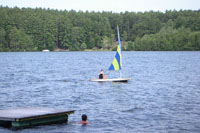 If you are bringing your own boat, there are a couple of things you should know:
Invasive plants can be accidentally transported on boats and trailers, so you should inspect your equipment carefully for plant fragments before launching. If you meet a courtesy boat inspector at the boat ramp, please cooperate with them. These people are trained to help you inspect your gear to protect our lakes from dangerous plants and animals.

All out-of-state power boats are required to carry an invasive-plant sticker, obtainable from the Raymond town hall (see map), wherever you get your non-resident fishing license, or you can order it online.

Boating laws differ from state to state. Whether you are bringing your own boat, or renting one here, you should familiarize yourself with the Maine laws before you set out on the water. These laws are established for everyone's safety, and we urge you to be a courteous and legal boater:
OBSERVE THE WATER SAFETY ZONE - minimum speed required within 200' of shore.

There are minimum age and training requirements for operating certain types of boats, including PWC's (jetskis.)

All boats must carry Coast Guard approved PFD's (life jackets) for everyone aboard. Children 10 and under, and anyone on a PWC, MUST WEAR

their PFD's while in/on the boat. Additional life jackets, as well as other types of safety equipment, may be required, depending on the size and type of boat.

(See HERE for required lighting equipment, and the subsequent pages for other types of safethy equipment.)

When you are engaged in a towing sport like water-skiing, you MUST HAVE a spotter in the boat in addition to the driver.

PWC's (jetskis) and other powerboats must NOT engage in repeated circling, wake jumping, and other annoying maneuvers.


Reckless driving and drunk driving are just as much against the law on the water as they are on the roads.

Don't become a victim of GAT Syndrome.*

Watch your wake - you are responsible for damage done by your wake. And large wakes cause shore erosion (read more about it under "phosphorus" in the "Threats to the Lake" section.)
For a more thorough summary of state boating laws, pick up a copy of the current State of Maine Boating Laws & Rules where you get your invasive-plant sticker.
In the spring of 2010 the PPA will be placing hazard markers on the few dangerous rocks which lurk outside the Water Safety Zone. (There may be unmarked rocks within the Water Safety Zone, but when you're boating within the Zone, you'll be going slowly and keeping a close watch out, won't you?) The approximate positions of hazard markers and shoal waters can be seen on this map. You should also understand that some hazards (like floating logs) may shift position without warning, and there may be swimmers in the Water Safety Zone, so it's your responsibility as a boat driver to keep a careful watch at all times. The hazard marker buoys will help, but they're no excuse for reckless driving.
If you are out enjoying the lake on a summer afternoon, keep an eye out to the northwest (the upper left on our maps.) This is where most of our summer thunderstorms come from, and you wouldn't want to be caught out on the open water when one of them blows through.
A note about wake boarding: wake-boarding boats produce abnormally large waves, which can cause erosion of the shoreline and damage private property and equipment. The best way to prevent damage (apart from not doing it) is to keep wake boarding activity in the middle of the lake, so that the waves have a chance to attenuate before reaching shore. Remember, you ARE responsible for damage caused by your wake; it's better to be safe and courteous, and not risk creating problems that could spoil your vacation.
Thank you for helping us keep the lake safe for everyone to enjoy.
* Gasoline, Alcohol, & Testosterone - it's a killer combination.