---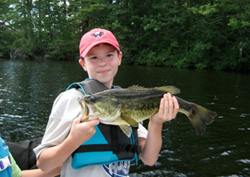 The principal game species in Panther Pond are:
Smallmouth bass
Largemouth bass
Landlocked salmon
Lake trout (togue)
Brook trout
White perch
Other fish that may be encountered occasionally include:
Rainbow smelt
Yellow perch
Chain pickerel
American eel
Where's the best place to fish? Wellllll, now . . . we've gathered a lot of information about the lake in these pages; you don't expect us to divulge everything, do you? You'll find a map of lake depths here. After that, you're on your own.
For a complete reference of Maine fishing laws and rules, please check here and here. (Note: you can buy your fishing license online.)