CONSIDER A GIFT TO
THE RAYMOND VILLAGE LIBRARY'S
ANNUAL APPEAL
The Annual Appeal is our most important fundraiser, and your donations support our collections and programming for all ages. Your financial support enables us to continue our mission of enriching the lives of everyone who visits our library.

Please give whatever you can; no donation is too small. You can donate by mail, in person at the library or electronically through the donation button below. Thank you for your support!
Support Raymond Village Library while you shop using AmazonSmile!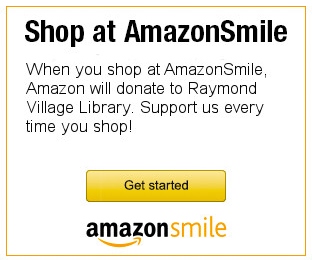 Wish List for Gift Basket Fundraiser
Our gift baskets are sought after during the Holidays, and your donations of a few items will help make this holiday fundraiser a success.
Suggestions: Clean, small to medium sized baskets; Clean basket stuffing/decorative colored straw/shred; Cellophane basket bags – medium to large; Antique or new – tea cups, coffee mugs and soup mugs; Packets of individually packed cookies, chips, popcorn or other snacks; Individually wrapped hard candies, candy canes, and chocolates; Mini packs of tea, coffee, cider mix, hot chocolate or soup; Small holiday wooden, or plastic tree decorations; Holiday stems of silk flower; Small gift items or knickknacks or toys – for man, woman or child; Small gift books – for man, woman or child.
Any of these donated items may be brought to the library from October 20 until November 16 during regular library hours.
Volunteers will be needed to help put the baskets together on Saturday. November 22 from 10:00am to 2:00pm. Please come and donate whatever amount of time you are able. A sign-up sheet will be available at the library. There will be a short "how-to session" given, then the fun begins! Refreshments will be served.
An Easy Way to Help your Library - Clynk
In the warmer months we often use more beverages in cans and bottles, especially with summer time company. One way to financially benefit your library, is to pick up the green Clynk bags available at the desk (ask for them if you don't see them) and fill them with your recyclable cans and bottles. Once filled just bring them into the local Hannaford Supermarket. The library will receive the money from the deposit to benefit the library's material and services.
Other Ways to Help...
Our library depends on the generosity of our patrons in order to provide services and resources. Your help is needed and much appreciated. Donations can be made online or in person.
~Return your bottles and cans through our CLYNK account.
~Volunteer your time. Ask us about volunteer opportunities.
~Bring in your gently used books and other media for our fundraising sales.
*Donate
a roll of stamps
a ream of paper
sponsor a magazine
sponsor a newspaper
sponsor a program
paper towels
bottled water for speakers and programs
cleaning supplies
hand soap or sanitizer
large and small trash bags
craft supplies for children
dvd's and audiobooks for the collection
Thank you to all who generously support the library.
We appreciate your donations.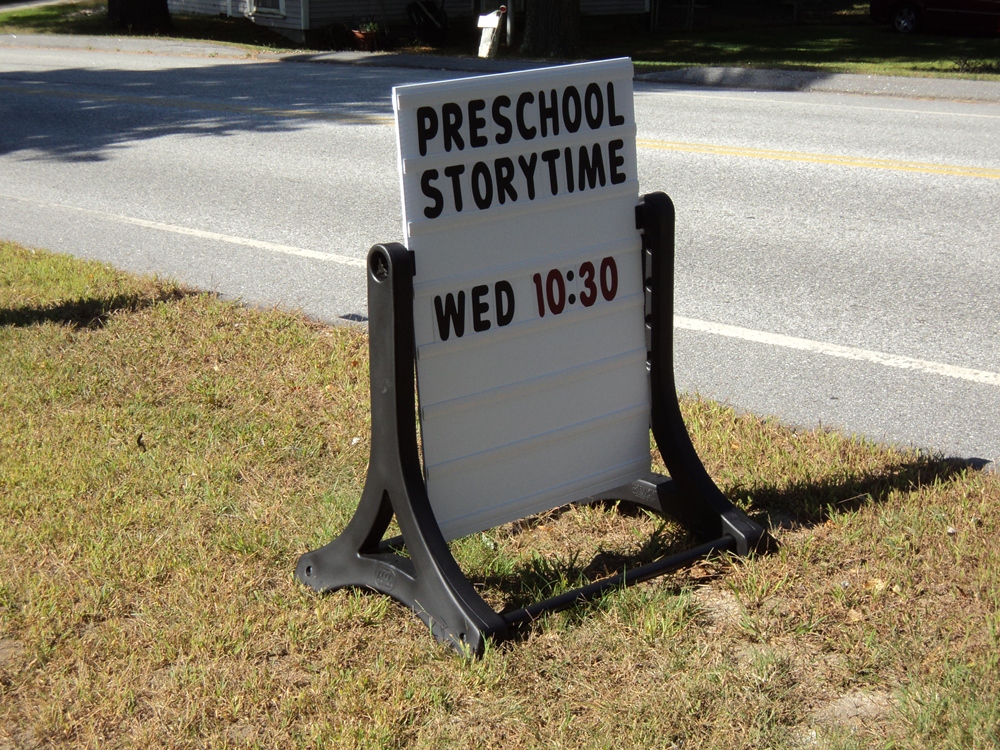 Our new events sign, donated by board member Norma Richard
in memory of her beloved mother, Lillian.