---
The Panther Pond Association doesn't have the staff to keep up with the constantly-changing array of local commercial establishments. (We're putting our money and volunteer time into lake environmental projects instead.) If you're new to the area, we suggest that you explore the following links for information on shopping, dining, boating, sports, arts, wineries, etc.:
Lakes Region Chamber of Commerce
Sebago Lake Chamber of Commerce
Other Things To Do
Here are some ideas for other (mostly non-commercial) entertainments (especially with children):
There are public beaches at Crescent Lake (on Route 85, next to the boat ramp,) and on Sebago Lake off Route 302 in Raymond. And there's Sebago Lake State Park off Route 302 in the town of Casco. (See the two maps referenced in "Getting Around."
Maine Wildlife Park in the town of Gray, where the State of Maine cares for injured and orphaned wild animals. (Entrance fee charged.)
For those interested in history, crafts, culture, or agricultural products, there's the Shaker Village, a living Shaker community in a lovely rural setting in New Gloucester.
For easy-to-moderate climbing with magnificent views (suitable for active children 4-5 and older) try the Rattlesnake Mountain trail, just north of Panther Pond - access from route 121 (difficult climbing and poorly-marked trail) or route 85 (easier.) Or Douglas Hill in the town of Baldwin, with its stone observation tower overlooking Sebago Lake and the White Mountains (very easy.) A little farther afield, and more strenuous, is Pleasant Mountain in Bridgdon. If even easy climbing isn't your thing, try Hacker's Hill in Casco for a glorious view of the sunset over the western mountains.
Songo Locks on the Songo River in Casco is a working hand-operated lock moving boats between Sebago Lake and Brandy Pond. The manually-operated swing bridge at Songo Locks is one of the few left in the country.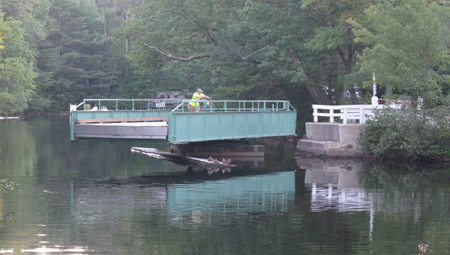 For a quiet break, take a canoe or kayak ride up the Tenney River. Watch for waterfowl and wildflowers. On a sunny day, count the turtles basking on logs at the river's edge. Or watch the sunset from Quaker Ridge.
For (privately operated) seaplane rides and riverboat rides, check out the town of Naples, just up Route 302 from Raymond.
The Raymond Village Library is open Sundays, Mondays, Wednesdays, and Thursdays (see their Website for hours.) In addition to books for adults and children, it has computers for public use, and free wi-fi (you can probably pick up the wi-fi in the parking lot, even when the library is closed.)
It's only about a 45-minute ride to Freeport, for outlet shopping and Maine's world-famous outdoor store.

Panther Pond - not just a one-season sort of place