---
Maine has established a Water Safety Zone on inland waters. This regulation may be different from your home state, so please read carefully.
Motor boats are required to travel at headway speed only, within 200 feet of any shoreline. This safety zone is in effect near ALL shorelines, even around points, islands, coves, and on rivers. This law exists for two primary reasons:
Safety. The zone 200' from shore is the area where swimmers and small boats are most likely to be present and where a boater operating at high speed might not see them. (But there may be swimmers anywhere in the lake at times, so please do keep a careful watch.)
The Environment. The 200' zone helps reduce the environmental impact of boat waves, reducing erosion and protecting the delicate shoreline habitat of species like nesting loons.
How fast is "headway speed"? It's as slow as you can go and still be able to steer your boat. Not half-speed, not slow speed, but the slowest speed that you can manage.
How far is 200 feet? It's 2/3 of a football field. It's about the height of a 20-story building.
If you're boating at the south end of Panther Pond, look for the King's Grant float. (You'll know it by the "ME 24" tags on its sides.)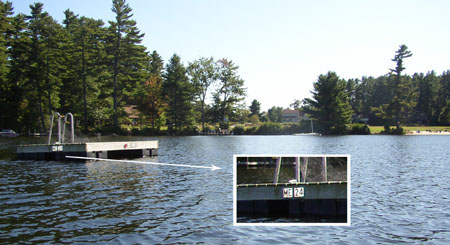 This float is normally anchored 200' from shore.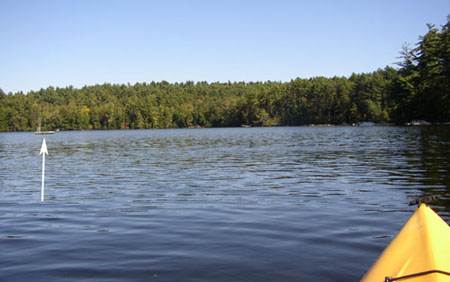 If you're at the boat ramp on Crescent Lake, stand at the head of the ramp and look for the stone gateposts by the handicapped-parking sign: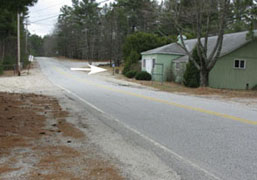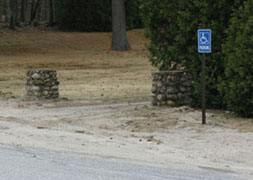 They are about 200' from the ramp.

How far is 200 feet? It's farther than you think!
Water Skiing
There is an exception to the 200' limit for water skiing, but you must go in and out of the 200' zone as directly as possible. If you're starting off with a skier, go straight out from the dock, not along the shore. (See diagram below.) The same applies to dropping off a skier. Go straight in, drop your skier, and STOP; skip the power turns.
The safety zone has been created to protect other people who may be enjoying the water. Please do your part to keep the lakes safe for all of us. Thank you.