The Town Office will be closed starting Tuesday, December 24th at noon through December 25th in observance of Christmas. Regular business hours will resume December 26th at 8:30am.
The Town Office will also be closing at 4:00pm on Tuesday, December 31st through January 1st in observance of the New Year.
Have safe and happy holidays!
From the Management, Staff and Officials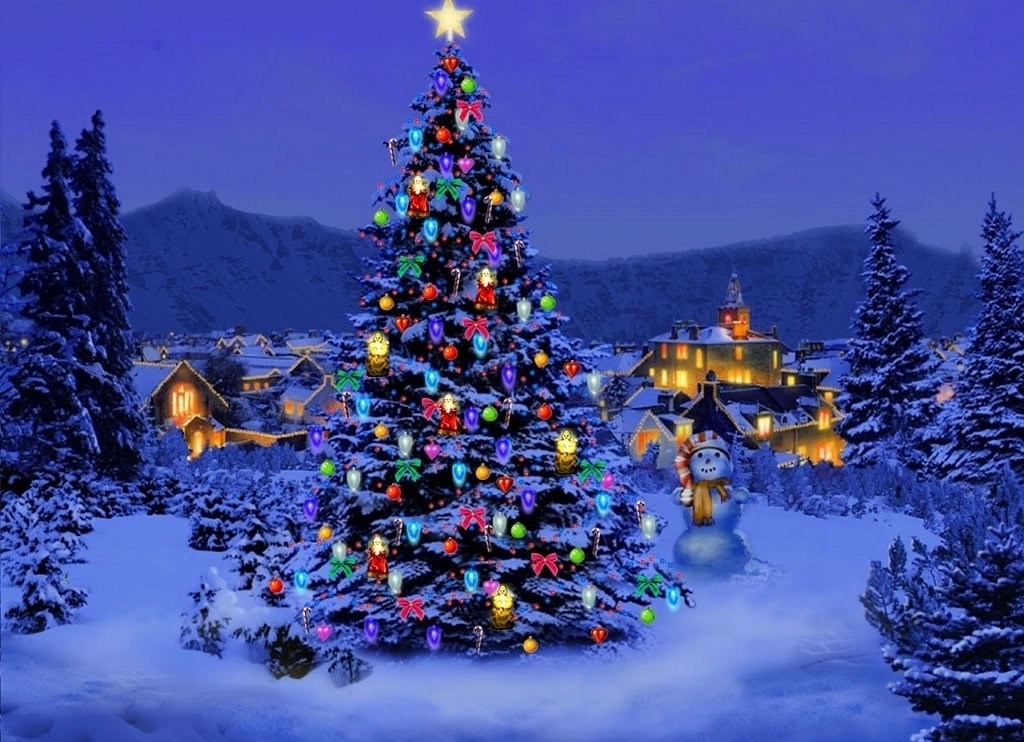 Trash/recycling will not be picked up Thanksgiving Day, Thursday, November 28th and Christmas Day, Wednesday, December 25th. The dumpsters at the Town Office will be available for trash/recycling deposit for residents who want to deliver it.
Raymond residents are able to get small amounts of sand/salt for their walkways from the Plains Road Public Works area [Fire Lane 89 near Camp Hinds]. The area will be open beginning November 1st Monday through Friday from 7:00 am to 3:30 pm. Residents should not expect to get more than a couple of 5 gallon pails at a time.
The Town of Raymond invites you to participate in a brief survey regarding economic development. This is to give the Economic Development Task Force insight regarding how friendly Raymond's business climate is and can help the Town of Raymond plan for its future development plans, including ordinance revisions.

Link to survey HERE

This link is uniquely tied to this survey and your email address. Please do not forward this message so that we do not send a duplicate message to your address. Results are anonymous and will not linked to your information. The results will be discussed at the November Economic Development Task Force meeting.

For more information, please contact Danielle Loring (danielle.loring@raymondmaine.org) at 207-655-4742 x 133.


Thank you in advance for your participation!
The RTP Lakes Region Bus will begin service Monday, November 25th. The bus service operates five days a week serving the Rte. 302 corridor from Naples to Portland. The list of bus stops, a map and schedule are below. Bus service will be provided in two shifts, from 6:00 a.m. to 11:45 and 3:00 p.m. to 8:20 p.m. RTP will be using a 22 passenger diesel-hybrid bus for the route. The bus provides wheel chair accessibility and has a bike rack. For the remainder of 2013 there will be no fare (free). Beginning January 1, 2014, all one way trips will be $3.
(Click either image for a larger view)
The Town of Raymond is seeking two members to serve on the Planning Board which meets the second Wednesday of the month as needed, and a member and alternate to serve on the Zoning Board of Appeals, which meets on the last Monday of the month as needed.
Please contact Louise Lester, Town Clerk, at 655-4742 x 121 for more information or to apply.
The Raymond Town Office will be closing from 11:30am to 1:30pm for an offsite staff holiday party. Please see Online Registrations for a list of available web services.
Happy Holidays,
Raymond Staff
To: Stumpage Buyers
From: Greg Foster, Timber State G
PROPERTY OF: Town of Raymond
SHOWING: Monday, December 2, 2013 @ 9:00 AM. Meet at Raymond Picnic Area on Route 302. This will be the only showing, however, you are free to examine the timber at your convenience.
DEADLINE: Tuesday, December 17, 2013 @ 4:00 PM. Bid Opening @ Town Office @ 5:00 PM
The Town of Raymond is happy to announce that they now have video streaming! During live broadcasts, you will be able to view meetings HERE.
APPLICATIONS ARE BEING ACCEPTED FOR APPOINTMENT TO THE CUMBERLAND COUNTY CIVIC CENTER BOARD OF TRUSTEES
Notice is hereby given by the Cumberland County Board of Commissioners that applications are being accepted for four Civic Center Trustee positions for terms beginning January 1, 2014.
The Commissioners will make the appointments in December to fill the four positions, three for a period of three years, one for a two year term from the following districts:
District #1 consists of Portland and Long Island (2 year term to fill a vacancy)

District #3 consists of Falmouth, Scarborough and Westbrook

District #4 consists of Gorham, Windham, Standish, Frye Island, Baldwin and Sebago

At Large (All of Cumberland County)
Citizens of Cumberland County who live in the above districts and one "At Large" are eligible and may apply for the appointment to these four Trustee positions. Applications may be obtained at the County Executive Office, 142 Federal Street, Room 102, Portland, ME 04101 or by calling 871-8380.
Applications for all positions must be submitted by noon on Friday, December 6, 2013. Districts 3,4 and At Large has been extended one week from November 29th to December 6th . Interviews will be held by the Cumberland County Commissioners in the Peter J. Feeney Conference Room at the Cumberland County Courthouse on Monday, December 16, 2013 beginning at approximately 5:00 PM.
For more information about the Beautification Committee and to learn how you can get involved, visit HERE.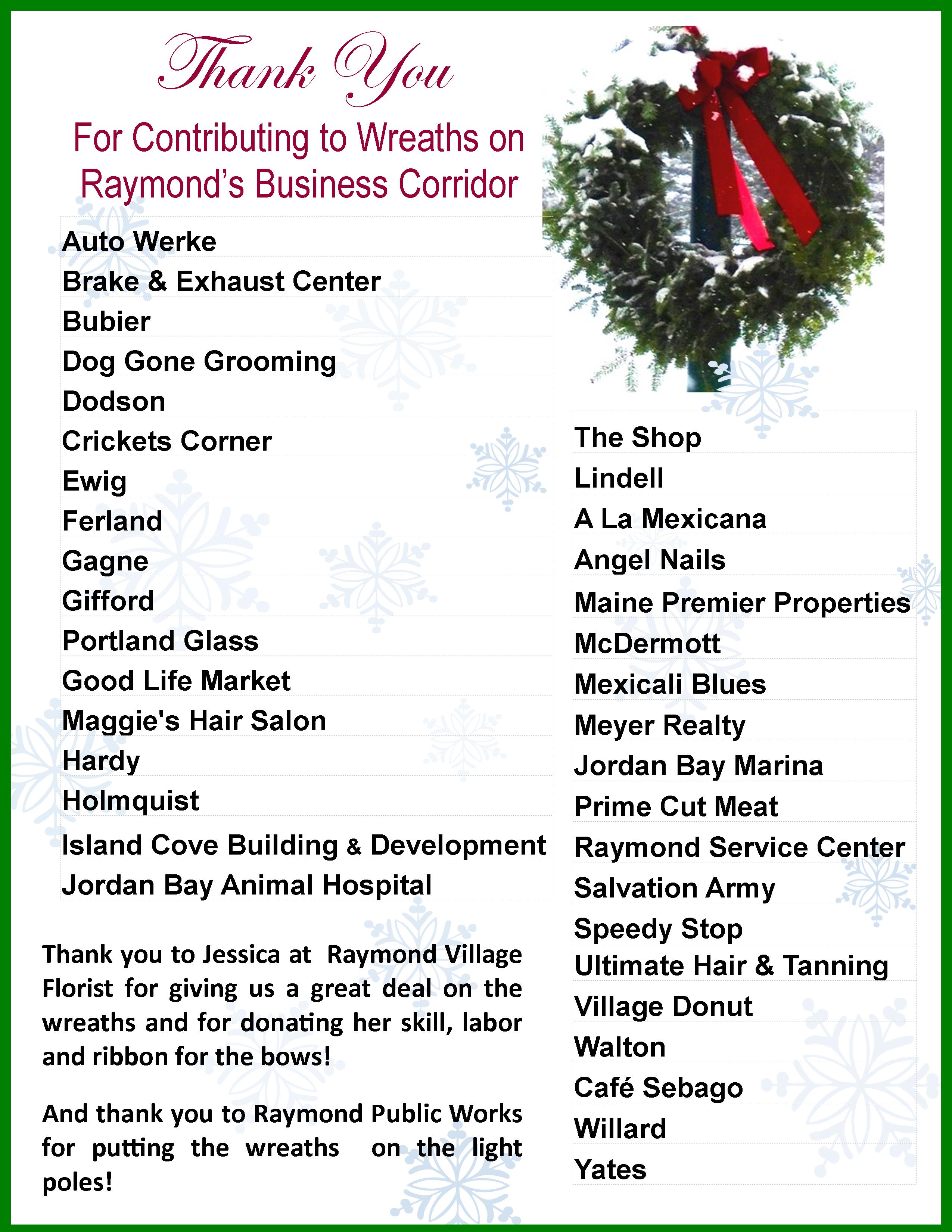 (Click image for larger view)
Here are a list of events and activities going on at the Raymond Village Library:
Monday, November 18 – Pajama Story Time, author, Brenda Reeves Sturgis, 6:00pm.
Monday, November 18 – Gift Baskets go on sale
Wednesday, November 20 – "Money in Politics", clean campaign speaker B.J. McCollister, 6:30pm - free at the library.
Wednesday, November 27 – Book Group, 7:00pm at the library
Sunday, December 1 – Holiday Story Time, 4:30pm at the library
Sunday, December 1 – Annual Tree Lighting, 5:00pm at the library
Wednesday, December 4 – Floral Arranging Class, 6:00pm at the library - pre-register
Sunday, December 8 – Annual Bake and Gift Basket Sale, 10am to 7pm at the library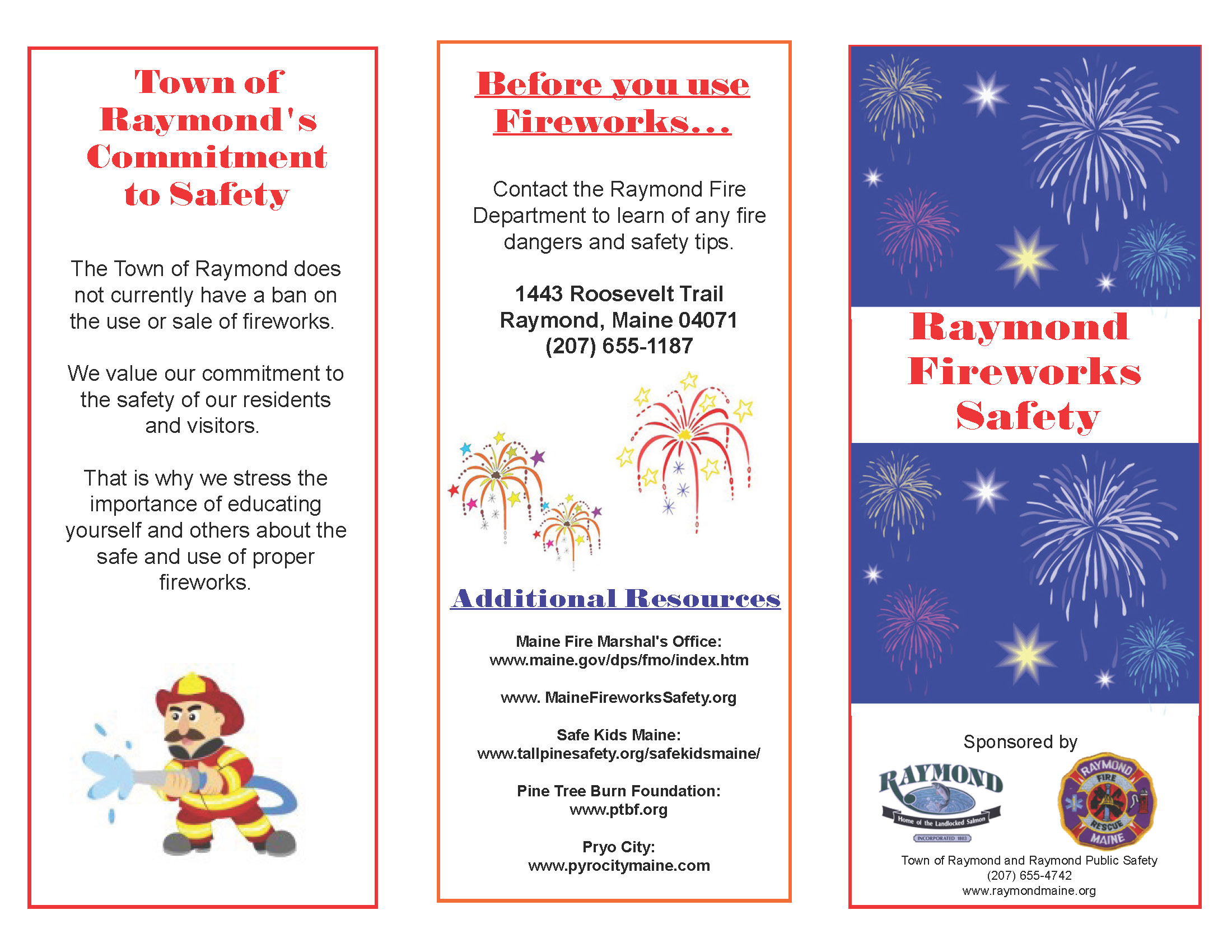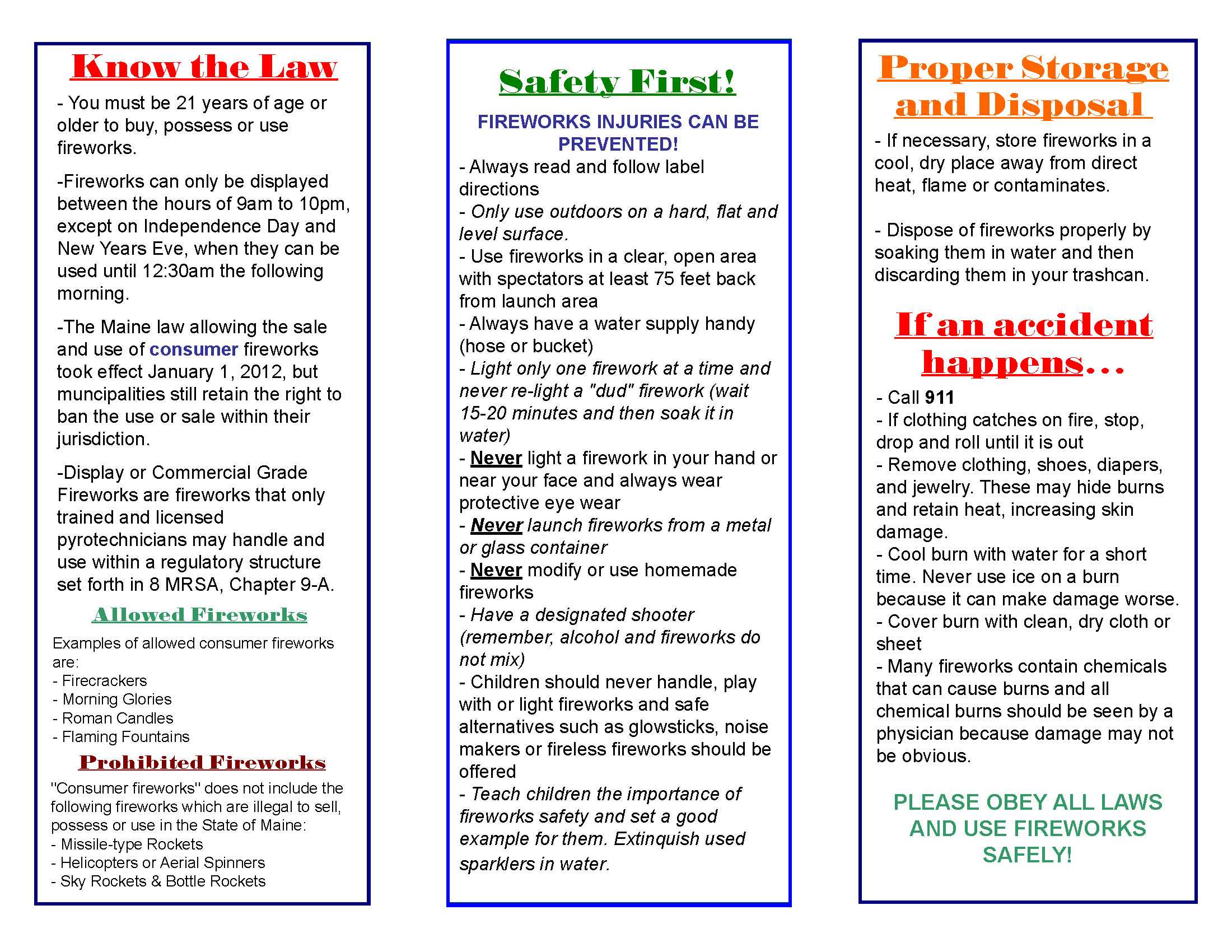 The Town of Raymond and Raymond Public Safety Department have compiled a firework safety brochure (PDF Version). Hardcopies will be available at the Town Office, Public Safety Building and various real estate and shopping/dining locations around town!
Central Maine Power, a subsidiary of Iberdrola USA, will perform tree trimming work in 16 communities in Southern Maine over the coming weeks. The work along utility lines is part of a $25 million annual vegetation management program to improve the reliability of its transmission and distribution lines.
"We maintain nearly 24,000 miles of roadside distribution lines on a five-year cycle of vegetation clearing, inspection, and repair," said CMP spokesman John Carroll. "Contact with trees is the most frequent cause of blinking clocks and power outages, so customers should see better reliability as the crews trim along the roadsides in their towns."
CMP's arborists and contractors will be working in Acton, Berwick, Bridgton, Casco, Eliot, Harrison, Kittery, Kennebunkport, Lebanon, Long Island, Naples, Portland, Raymond, Shapleigh, South Portland, and York.
Motorists are urged to use caution when they encounter tree crews working alongside Maine roads.
"These crews play a key role in helping CMP provide the safe, reliable service that customers depend on," said Carroll. "The work can be difficult, so we urge motorists who pass these crews to proceed slowly and at a safe distance."
CMP contracts with professional arborists who are required to follow practices established by the International Society of Arboriculture. These include consideration for the health, shape, strength, growth rate, and appearance of trees before and after pruning. CMP notifies customers about its vegetation management activities every year with inserts in its bills. Customers can sign up to receive a notice when tree trimming is happening in their area. For more information, call CMP's vegetation management department at 1-800-972-8600.
Additional information about CMP's tree care program, along with tips for tree planting and care can be found on CMP's Web site at http//www.cmpco.com – click on "Usage and Safety," then "Tree Care."