It is that time of year again! The first day of school is August 26th, which means drivers should use caution and watch for children at bus stops and plan morning and afternoon commutes accordly.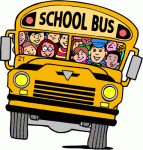 Thank you for your consideration!
Town Staff
The Town of Raymond seeks qualified individual(s) or firm(s) to create a business plan for a proposed public-private manufacturing incubator in Raymond utilizing CDBG Funds. Bid packet is available HERE. Materials are also available at the Town Office and by emailing danielle.loring@raymondmaine.org
Sealed submissions with appropriate forms and clearly marked "Business Planning RFQ" will be accepted until 4:00pm on Friday, August 29, 2014. Please send to:
Town of Raymond
ATTN: Danielle Loring
401 Webbs Mills Road
Raymond, ME 04071
Citizens seeking to burn brush, wood debris or agricultural fields now have the option to obtain their open burning permits electronically. The Maine Department of Agriculture, Conservation and Forestry's Bureau of Forestry announced that it has expanded the online burn permit system statewide. Traditional hand-written burn permits are still available, but the online system allows permits to be acquired 24 hours a day, 7 days a week, providing that the fire danger is not high.

The Town of Raymond is seeking one member to serve on the Planning Board, which meets the second Wednesday of the month as needed.
As well as an alternate to serve on the Zoning Board of Appeals, which meets on the last Monday of the month as needed.
Please contact Sue Look, Town Clerk, at 655-4742 x 121 for more information or to apply.
The bus service operates five days a week serving the Rte. 302 corridor from Naples to Portland. The list of bus stops, a map and schedule are below. Bus service will be provided in two shifts, from 6:00 a.m. to 11:45 and 3:00 p.m. to 8:20 p.m. RTP will be using a 22 passenger diesel-hybrid bus for the route. The bus provides wheel chair accessibility and has a bike rack. See RTP website for additional current information, including updated schedules, fares, and stops.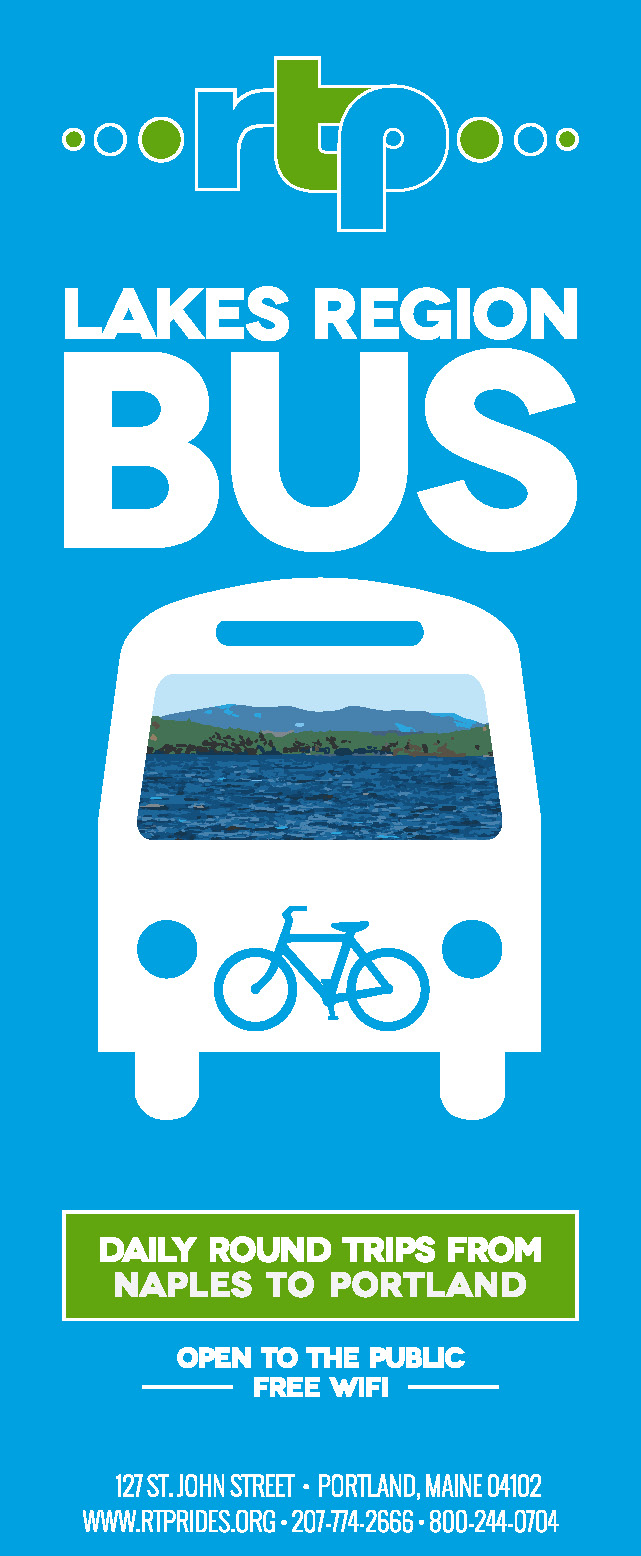 (Click to browse brochure for fares and route information)
(PDF Version Available HERE)
(Information as of 07-17-2014)
Town staff is currently updating the www.raymondmaine.org business section of website. If you would like to remain on the website, have your information updated or be added, please complete and return this FORM.
Contact Danielle Loring 207-655-4742 x 133 for more information.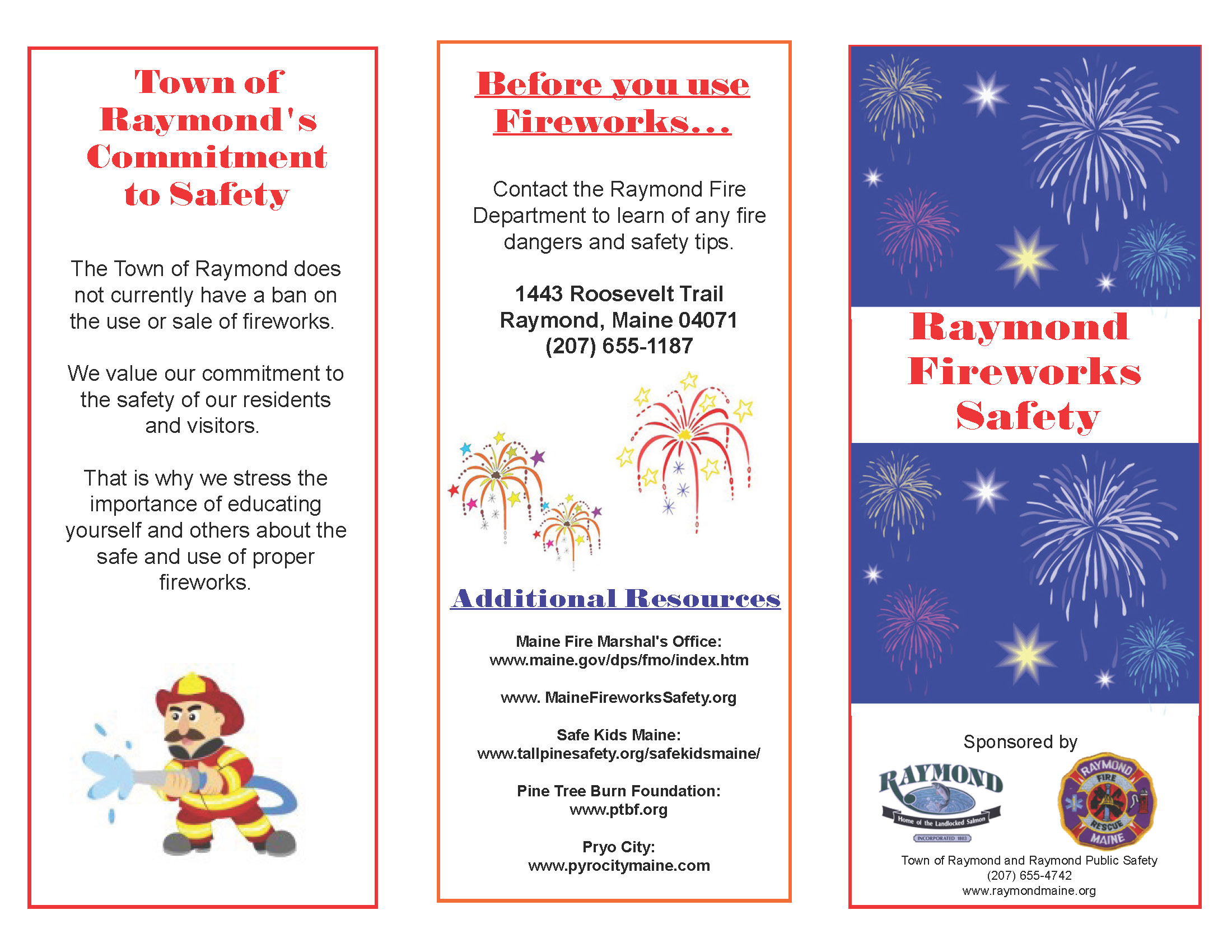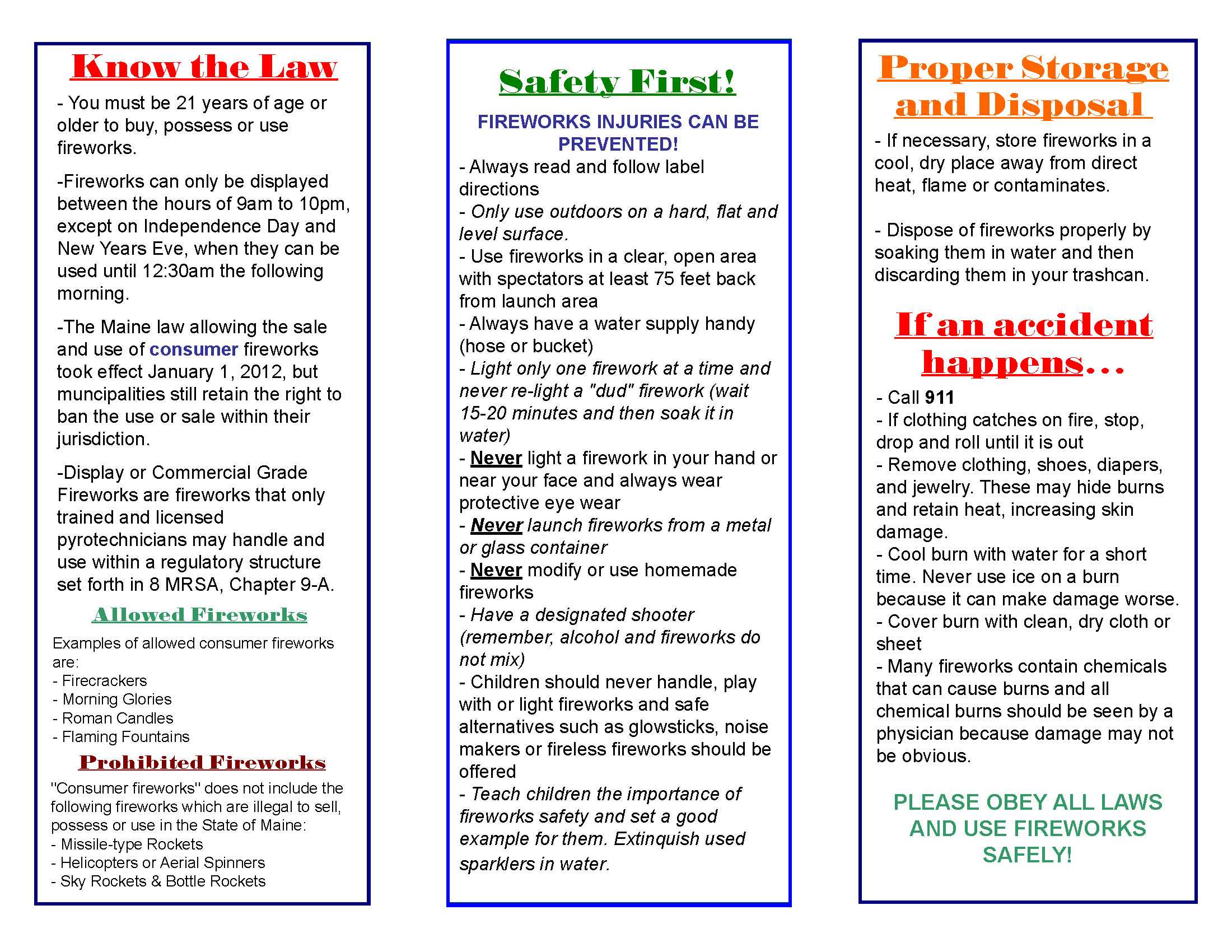 The Town of Raymond and Raymond Public Safety Department have compiled a firework safety brochure (PDF Version). Hardcopies will be available at the Town Office, Public Safety Building and various real estate and shopping/dining locations around town!
Central Maine Power, a subsidiary of Iberdrola USA, will perform tree trimming work in 16 communities in Southern Maine over the coming weeks. The work along utility lines is part of a $25 million annual vegetation management program to improve the reliability of its transmission and distribution lines.