You are here
Home
| PUBLIC NOTICE: Dumpsters to be removed from Town Office
PUBLIC NOTICE: Dumpsters to be removed from Town Office
Effective Monday, June 22, 2015, dumpsters
located at the Raymond Town Office will be removed due to ongoing abuse.
Raymond residents and property owners should use weekly curbside collection
for MSW and recycling disposal.
Individuals disposing of any materials on Town property
will be subject to criminal prosecution.
June 3, 2015
June 6, 2015 June 8, 2015
June 10, 2015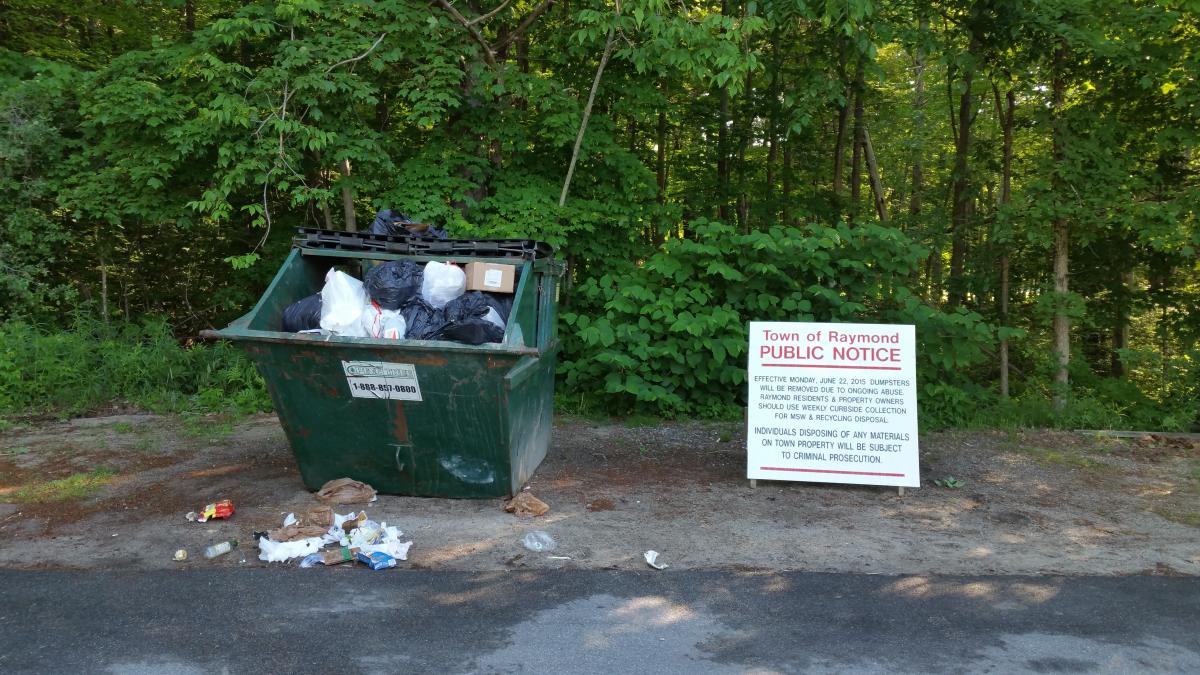 (Click images for larger view)
Upcoming Events
Wednesday, December 19, 2018 - 6:30pm

Tuesday, December 25, 2018 -

8:30am

to

4:00pm

Tuesday, January 1, 2019 -

8:30am

to

4:00pm

Wednesday, January 2, 2019 - 6:30pm

Tuesday, January 8, 2019 - 6:30pm
Online Transactions
Animal Welfare
BMV
Elections
Inland Fisheries & Wildlife
Maine Forest Service
Property Tax Payments
Raymond Newsletter
Stay informed on our latest news!
Who's Online?
There are currently 0 users online.