A community working together to support our children.
Would you like to make a real difference in your child's education, help bring valuable programs to the school, support the teachers and staff in the wonderful work they do? Then we need you!!
Check out "Our Committees" and "How You Can Help" pages to see how you can be involved. No matter what your availability is, we can help you find a way to contribute!
Do you have questions or ideas for us? Feel free to contact one of the board members, send us an email, or better yet join us for one of our meetings!
Our meetings are open to everyone; you don't need to be a member. We meet on the 3rd Wednesday of each month (during the school year) at 6:00pm in the Jordan Small Middle School Library.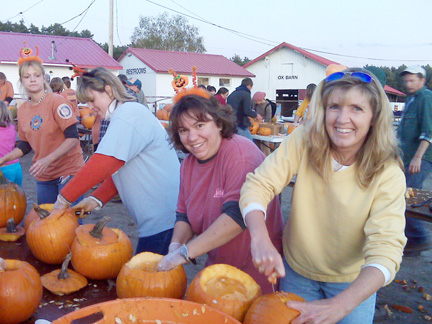 Caj, Lisa, and Carol at Pumpkin Fest
Board of Directors
President : Sibyl Peterson , raymondschoolsPTO@gmail.com
Vice President: Kaela Gonzalez, Kaelagonzalez@yahoo.com
Secretary: Mandy Mandyladd333@gmail.com
Treasurer: Karlie Rouzer, Karlie.rouzer@gmail.com
Link to the WINDHAM PTA HERE
Raymond PTO
C/O Raymond Elementary School
434 Webbs Mills Road
Raymond ME 04071
Mission Statement: To advocate for our children, provide educational enrichment programs, support school faculty and staff, and to collaborate with community organizations.