You are here
Home
| Raymond Newsletter 2017-10-19
Raymond Newsletter 2017-10-19
Thu, 10/19/2017 - 11:29am
|
Kaela Gonzalez
To access links below you must either Allow Remote Content OR click HERE to view message on the web.
Please report any issues to webmaster@raymondmaine.org
Table of Contents
Election Day
Open House at Raymond Fire & Rescue
Raymond Welcomes New Code Enforcement Officer
Raymond Brochure
Installation of New Town Signs Complete
Town of Raymond
Notice of Municipal Election
Tuesday, November 7, 2017
Voting Place Name Jordan Small Middle School
Voting Place Location 423 Webbs Mills Rd
Polls Open at 7 A.M. and Polls Close at 8:00 P.M.
Absentee Ballot Processing:
During Election Day (11/7/2017) - 10am, 2pm, 4pm, 6pm, 8pm
Questions To Be Voted On:
Question 1: Citizen Initiative – Allow Slot Machines or Casino in York County
Question 2: Citizen Initiative – Enhance Access to Affordable Health Care
Question 3: Bond Issue – Transportation Bond
Question 4: Constitutional Amendment – Reduce Volatility in State Pension Funding Requirements
Portland Water District Office To Be Voted On:
Board of Trustees – 1 seat for a 5-year term
Absentee Ballots available at the Town Office or request on line HERE. The deadline to request an absentee ballot is Thursday, November 2, 2017, at 4pm.
On October 18th Raymond Fire & Rescue held an Open House event for the community. They served up hotdogs, chips and soda while demonstrating
fire prevention and showing off the equipment.
The Town of Raymond is pleased to announce that Scott Dvorak will be joining our team as the new Code Enforcement Officer for Raymond at the end of October. He is coming to us from the Town of Gorham where he worked for 3+ years as the Assistant Code Officer. He has over 30 years of construction experience and came highly recommended. While we will miss Chris Hanson and wish him luck with his future endeavors we are looking forward to developing a great working relationship with Scott.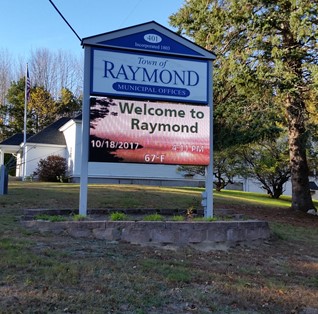 Installation of the new signs at the Public Safety Building and the Town Office is now complete.
Upcoming Raymond Events
Monday, October 18, 2021 - 8:30am

Wednesday, October 20, 2021 - 6:00pm

Thursday, October 21, 2021 - 6:30pm

Tuesday, October 26, 2021 -

7:00pm

to

9:00pm

Tuesday, November 2, 2021 -

7:00am

to

8:00pm

Wednesday, November 3, 2021 - 7:30pm

Tuesday, November 9, 2021 - 6:30pm

Wednesday, November 10, 2021 - 6:15pm

Thursday, November 18, 2021 - 6:30pm

Tuesday, November 30, 2021 -

7:00pm

to

9:00pm
Online Transactions
Animal Welfare
BMV
Elections
Inland Fisheries & Wildlife
Maine Forest Service
Property Tax Payments
Featured Web Content
Mon - Closed
Tues - 8:30am to 7pm
Wed - 8:30am to 4pm
Thur - 8:30am to 4pm
Fri - 8:30am to 4pm
Sat - Closed
Sun - Closed
2021-2022 Tax Rate:
$14.10/$1,000
Community & Informational Brochures
​Includes important local information including:
Firework Safety
RTP Bus Route Information
Welcome to Raymond Brochure
Town Office Directory
Please be aware that the Town Office Extensions have changed. Please view our directory for more information.
Video Streaming
You can now watch a LIVE STREAM of Raymond TV on your computer or mobile device by going here!
You can also view Archived meetings here!
Raymond Parcel Maps and Assessing Data in Google Earth!
You can view an overlay of Raymond's property parcel maps in Google Earth with tax assessing data.
Raymond Village Library
Come see all that the Library has to offer from Children's Story Times, booksales, wireless internet, access to ebooks and MORE!
Volunteer Opportunities
View some of the openings that we have on government boards and learn other ways that you can help your local community!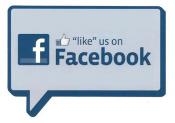 Raymond Newsletter
Stay informed on our latest news!
Who's Online?
There are currently 0 users online.