Posted on

Thu, 10/19/2017 - 11:29am

by

Kaela Gonzalez
To access links below you must either Allow Remote Content OR click HERE to view message on the web.
Please report any issues to webmaster@raymondmaine.org
Table of Contents
Election Day
Open House at Raymond Fire & Rescue
Raymond Welcomes New Code Enforcement Officer
Raymond Brochure
Installation of New Town Signs Complete
Town of Raymond
Notice of Municipal Election
Tuesday, November 7, 2017
Voting Place Name Jordan Small Middle School
Voting Place Location 423 Webbs Mills Rd
Polls Open at 7 A.M. and Polls Close at 8:00 P.M.
Absentee Ballot Processing:
During Election Day (11/7/2017) - 10am, 2pm, 4pm, 6pm, 8pm
Questions To Be Voted On:
Question 1: Citizen Initiative – Allow Slot Machines or Casino in York County
Question 2: Citizen Initiative – Enhance Access to Affordable Health Care
Question 3: Bond Issue – Transportation Bond
Question 4: Constitutional Amendment – Reduce Volatility in State Pension Funding Requirements
Portland Water District Office To Be Voted On:
Board of Trustees – 1 seat for a 5-year term
Absentee Ballots available at the Town Office or request on line HERE. The deadline to request an absentee ballot is Thursday, November 2, 2017, at 4pm.
On October 18th Raymond Fire & Rescue held an Open House event for the community. They served up hotdogs, chips and soda while demonstrating
fire prevention and showing off the equipment.
The Town of Raymond is pleased to announce that Scott Dvorak will be joining our team as the new Code Enforcement Officer for Raymond at the end of October. He is coming to us from the Town of Gorham where he worked for 3+ years as the Assistant Code Officer. He has over 30 years of construction experience and came highly recommended. While we will miss Chris Hanson and wish him luck with his future endeavors we are looking forward to developing a great working relationship with Scott.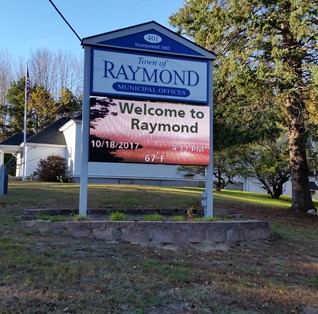 Installation of the new signs at the Public Safety Building and the Town Office is now complete.